Family Violence and Vulnerable Migrants. What are your rights?
16/07/2020 10:00 AM
Speaker - Harry Fatu Toleafoa, Lena Wong
Location - Online Zoon
Workshop details
The issues are relevant to anyone who is here with their partner through their partnership visa and is experiencing family harms. It would be great especially for professionals to attend the webinar and to learn the basic understanding of how migrant can get help when facing family harm.
Come and join us for a FREE two-hour online webinar. Everyone is welcome.
Date: 16 July
Time: 10am to 12pm.
Guest Speakers
• Harry Fatu Toleafoa works at the Mangere Law Centre as a legal educator and is a law graduate from the University of Auckland.
• My name is Lena Wong, and I am a Director/Partner at Complete Legal Limited. We are a South Auckland based law firm specialising in Family Law. Although we do have a property/conveyancing and general practice also. I have been practising in family law in South Auckland for the past five years and specialise in Family Violence, Oranga Tamariki and Care of Children Law. However, I also do trusts, elder law and relationship property. Despite my last name, I am a Cook Islander and was lived most of my life in Rarotonga before moving to New Zealand about 10 years ago.
Host
• Shirleen Prasad is Practice Leader for Asha, the South Asian team at Asian Family Services. She holds a Bachelor of Counselling, Graduate Diploma in Arts Psychology and is a final year master's student at the University of Auckland.
Registration https://us02web.zoom.us/j/82618242046 and once your register you can either add the event into your calendar or to join in via the link provided.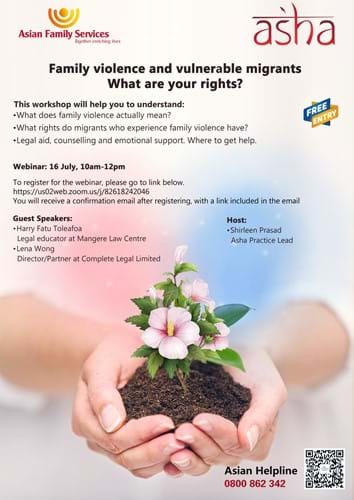 For the presentation, we have cut into 5 parts, see the videos below:
Part one - What is family violence?
Part two - Rights of migrants who experience family violence
Part three - Special Visa Categories Migrants and Family Violence
Part four - Counselling, in the context of Family Violence
Part five - Q & A